Trailer Included
Unique Driving Experience
Switch Modular Deck
Tri-Hull Design
Rotax Engine
Switch Bimini Top
Watersports Ready
Sun Pads & Backrest
Garmin 7'' Touchscreen GPS
Layout configurations
Explore SWITCH SPORT packages and specifications
switch sport
Change Model
1 Choose length
Which length is right for me?
How much capacity do you need? The length of the deck and capacity go hand in hand. The longer the boat, the more capacity, and storage, you get.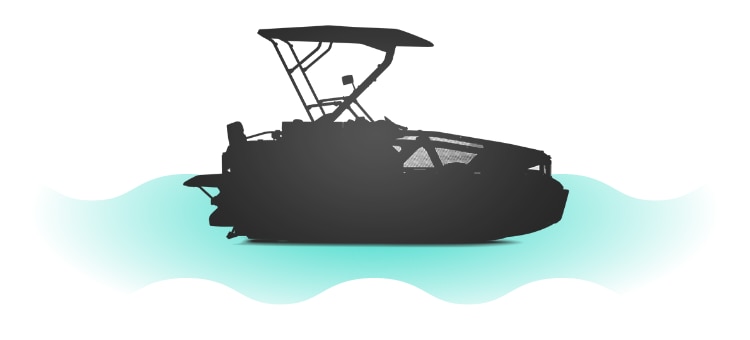 2 Select engine
How much power do I need?
Find the right engine based on the intended usage of your pontoon.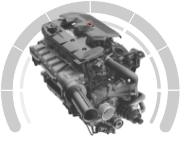 3 Pick a color
Which color do I want?
The SWITCH SPORT comes in 3 colors.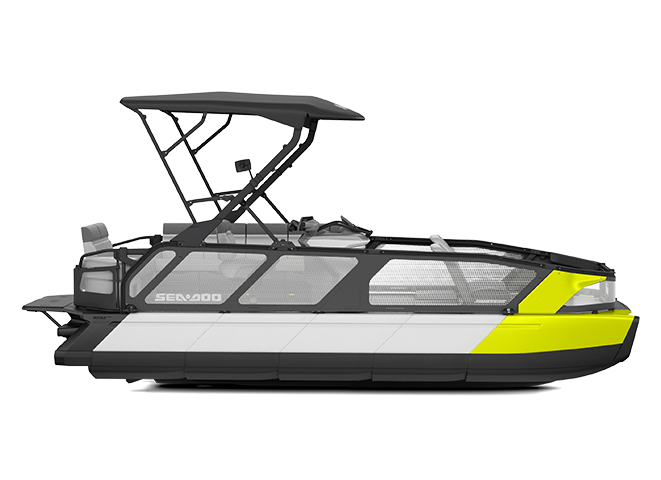 Caribbean Blue

Neon Yellow

Coral Blast
View All Packages & specs
Help me choose a package
The 13-foot Switch Sport Compact delivers a big dose of watersport excitement in a convenient size that's easy to store, transport and launch. Ideal for smaller bodies of water, its 170-HP engine is ultra-efficient and has perfect power for big time fun.

Engine

Rotax 1630 ACE™ - 170 hp

Fuel Capacity

109,8 L / 29 gal

Storage Capacity

536 L / 141 gal

Rider Capacity

5 riders

Hull Material

Polytec™

Engine

| | |
| --- | --- |
| Engine | |
| Type | |
| Engine Horse Power | |
| Top Speed | |
| Engine cooling | Closed-Loop Cooling System (CLCS) |
| Engine reverse system | iBR® System (Brake & Reverse System) |
| Engine fuel type | Regular Unleaded Gasoline (87 octane) |

Dimensions

Vehicle Length
Vehicle Width
Height (Lowered Bimini)
Dry weight
Trailer Dry Weight
Trailer Length
Trailer Width
Trailer Type

Painted trailer included
Galvanized trailer (optional)

Capacity

| | |
| --- | --- |
| Rider capacity | |
| Fuel capacity | |
| Storage capacity of the glove box | |
| Under deck storage compartment | |
| Under seat storage | |
| Corner table storage | |
| Total Storage Capacity | |

Feature

Audio System

BRP Audio System (Accessory)
100-watt speakers

Furnitures

Switch bimini top
Clear-view side panels
Stern lounge
Sun pads & Sport lounge
Sun pad backrest
2x corner table
Driver seat with bolster
Rearview mirror
Garmin 7'' touchscreen GPS
Glove box with dual USB port
12V outlet
Retractable boarding ladder
Quick-attach inflatable holder
Ski tow eye
LinQ™ attachment points
Under-deck storage compartment
Console storage net
Integrated anchor storage
LED Navigation lights
LED Courtesy light
Integrated cleats (4)

Features

iBR® - Intelligent Brake & Reverse
iDF™- Intelligent Debris-Free Pump System
RF D.E.S.S.™ key

Hull

| | |
| --- | --- |
| Hull type | |
| Hull material | Polytec™ - Robust & Scratch resistant |

Gauge

Type of gauge
Gauge main functions

Speedometer
Clock
Fuel consumption instant & average
Fuel autonomy distance & time to empty
Garmin† 7'' touchscreen GPS

Navigation

Garmin† 7'' touchscreen GPS

Driving Mode - iTC functions

Sport mode
ECO® mode
Slow mode
Cruise control
Ski mode

Warranty

| | |
| --- | --- |
| Warranty | 1 year factory limited warranty on engine and materials. 10 years on structure and hull. |

At 230 HP the Switch Sport 18 delivers all the watersport awesomeness of the Compact model, but adds to the fun with extra power, standard BRP Audio System, 8-person capacity and more space to move about.

Engine

Rotax 1630 ACE™ - 230 hp

Fuel Capacity

109,8 L / 29 gal

Storage Capacity

577 L / 152 gal

Rider Capacity

7 riders

Hull Material

Polytec™

Engine

| | |
| --- | --- |
| Engine | |
| Type | |
| Engine Horse Power | |
| Top Speed | |
| Engine cooling | Closed-Loop Cooling System (CLCS) |
| Engine reverse system | iBR® System (Brake & Reverse System) |
| Engine fuel type | Regular Unleaded Gasoline (87 octane) |

Dimensions

Vehicle Length
Vehicle Width
Height (Lowered Bimini)
Dry weight
Trailer Dry Weight
Trailer Length
Trailer Width
Trailer Type

Painted trailer with brakes included
Galvanized trailer with brakes (optional)

Capacity

| | |
| --- | --- |
| Rider capacity | |
| Fuel capacity | |
| Storage capacity of the glove box | |
| Under deck storage compartment | |
| Under seat storage | |
| Corner table storage | |
| Total Storage Capacity | |

Feature

Audio System

BRP Audio System
100-watt speakers

Furnitures

Switch bimini top
Clear-view side panels
Stern lounge
Sun pads & Sport lounge
Sun pad backrest
2x corner table
Driver seat with bolster
Rearview mirror
Garmin 7'' touchscreen GPS
BRP Audio System
Glove box with dual USB port
12V outlet
Swim platform
Retractable boarding ladder
Quick-attach inflatable holder
Ski tow eye
LinQ™ attachment points
Under-deck storage compartment
Console storage net
Integrated anchor storage
LED Navigation lights
LED Courtesy light
Integrated cleats (4)

Features

iBR® - Intelligent Brake & Reverse
iDF™- Intelligent Debris-Free Pump System
RF D.E.S.S.™ key

Hull

| | |
| --- | --- |
| Hull type | |
| Hull material | Polytec™ - Robust & Scratch resistant |

Gauge

Type of gauge
Gauge main functions

Speedometer
Clock
Fuel consumption instant & average
Fuel autonomy distance & time to empty
Garmin† 7'' touchscreen GPS

Navigation

Garmin† 7'' touchscreen GPS

Driving Mode - iTC functions

Sport mode
ECO® mode
Slow mode
Cruise control
Ski mode

Warranty

| | |
| --- | --- |
| Warranty | 1 year factory limited warranty on engine and materials. 10 years on structure and hull. |

The Switch Sport 21 is the perfect party deck for water lovers. With capacity for 9, there's plenty of room for friends and family to enjoy all the thrills and action out on the water together.

Engine

Rotax 1630 ACE™ - 230 hp

Fuel Capacity

109,8 L / 29 gal

Storage Capacity

616 L / 163 gal

Rider Capacity

9 riders

Hull Material

Polytec™

Engine

| | |
| --- | --- |
| Engine | |
| Type | |
| Engine Horse Power | |
| Top Speed | |
| Engine cooling | Closed-Loop Cooling System (CLCS) |
| Engine reverse system | iBR® System (Brake & Reverse System) |
| Engine fuel type | Regular Unleaded Gasoline (87 octane) |

Dimensions

Vehicle Length
Vehicle Width
Height (Lowered Bimini)
Dry weight
Trailer Dry Weight
Trailer Length
Trailer Width
Trailer Type

Painted trailer with brakes included
Galvanized trailer with brakes (optional)

Capacity

| | |
| --- | --- |
| Rider capacity | |
| Fuel capacity | |
| Storage capacity of the glove box | |
| Under deck storage compartment | |
| Under seat storage | |
| Corner table storage | |
| Total Storage Capacity | |

Feature

Audio System

BRP Audio System
100-watt speakers

Furnitures

Switch bimini top
Clear-view side panels
Stern lounge
Sun pads & Sport lounge
Sun pad backrest
2x corner table
Driver seat with bolster
Rearview mirror
Garmin 7'' touchscreen GPS
BRP Audio System
Glove box with dual USB port
12V outlet
Swim platform
Retractable boarding ladder
Quick-attach inflatable holder
Ski tow eye
LinQ™ attachment points
Under-deck storage compartment
Console storage net
Integrated anchor storage
LED Navigation lights
LED Courtesy light
Integrated cleats (4)

Features

iBR® - Intelligent Brake & Reverse
iDF™- Intelligent Debris-Free Pump System
RF D.E.S.S.™ key

Hull

| | |
| --- | --- |
| Hull type | |
| Hull material | Polytec™ - Robust & Scratch resistant |

Gauge

Type of gauge
Gauge main functions

Speedometer
Clock
Fuel consumption instant & average
Fuel autonomy distance & time to empty
Garmin† 7'' touchscreen GPS

Navigation

Garmin† 7'' touchscreen GPS

Driving Mode - iTC functions

Sport mode
ECO® mode
Slow mode
Cruise control
Ski mode

Warranty

| | |
| --- | --- |
| Warranty | 1 year factory limited warranty on engine and materials. 10 years on structure and hull. |