Boat terms
It is important to be familiar with the many terms used on the waterways, as well as with the different parts and features of your boat or watercraft. Study the illustrations below for some of key terms and take a Safe Boating Course.
Front, back, left, right on the road are bow, stern, port and starboard on the water.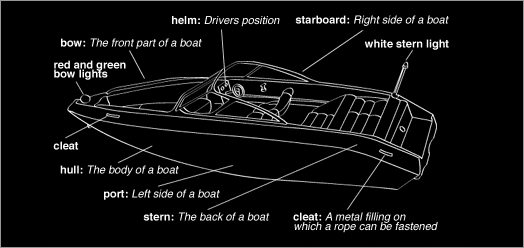 Skier's hand signals
Skiing and wakeboarding are immensely popular boating activities. Even if you don't ski, you may eventually take up this fun and challenging water sport so you should learn the "skier's hand signals" now.





Boating signs

Alpha Flag, International Diver Down
The blue Alpha Flag is required by federal law to be displayed by vessels engaged in diving operations. Watercraft operators and boaters must exercise caution.

Diver Down
The red Divers Flag is not an official flag but is used widely by recreational divers. Watercraft operators and boaters must exercise caution.

Boats Keep Out
Nature of danger may be placed outside crossed diamond (e.g. waterfalls, swim areas, rapids).

Caution
Controlled Area as indicated in circle (e.g. speed limit, no fishing, no anchoring, ski only, slow, no wake, no ski, no prop boats).

Channel Marker Left
Lateral System. Keep buoy on left facing upstream.

Channel Marker Right
Lateral System. Keep buoy on right facing upstream.

Danger
Nature of danger may be indicated inside the diamond shape (e.g. rocks, reefs, dams, construction, snags).

Destruction
Cardinal Buoyage Marking System. Do not pass between shore and buoy.

Information
Tells direction and distance to locations, food, repairs, supplies and other non-regulatory messages.

Mooring Buoy
White with reflectorized blue band. May have white light or reflector.

Visual Distress Daytime Signal