Your Sea-Doo watercraft was built to high-quality standards. With a routine schedule of proper care and cleaning, along with a timely maintenance schedule, you should enjoy years of hassle-free operation.
 
Read your Owner's Manual
You know what you want from your new Sea-Doo watercraft, but it's also important you know what it requires from you.

Your owner's manual is filled with valuable information on everything from features/benefits to controls and component locations, from pre-operation checks to post-operating instructions, routine maintenance and special procedures.
 
Maintenance schedule
Sea-Doo watercraft can run longer with less maintenance than ever before, so you can spend less time in the garage and more time on the water. Ride for up to 100 hours or one year before your first oil change (100 hours for the Sea-Doo SPARK and 50 hours for all other models). After that you'll only need one oil change every 100 hours or one year.
To find the checklists that you will need to follow, refer to your owner's manual. Some are your responsibility, while others must be completed by an authorized Sea-Doo dealer. The key checklists are:
10-Hour Inspection Checklist – highly recommended and to be performed by dealer
Daily Pre-Operation Checklist – owner's responsibility
Pre-Season Preparation Checklist – performed by owner and dealer
If you are unsure of any aspect pertaining to the operation of your Sea-Doo watercraft or of any items on the above checklists, consult your dealer.
 
Proper care & cleaning
Always remember that you have a 'friend' down the road in your Sea-Doo dealer that carries all the accessories and cleaning supplies you need to keep your watercraft running and looking good.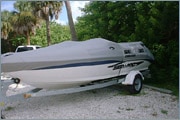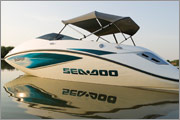 Mooring Covers                          Bimini Tops
 
Now that you have thoroughly read your Sea-Doo owner's manual, you are ready to enjoy your new watercraft. It is your responsibility to break it in properly. Just like the break-in period for a new car, you should be conservative in its initial operation.
During this period you should operate the watercraft at different RPM levels from low to high. During the initial break-in, don't run it wide open. Refrain from going full throttle and caving into your passengers' wishes of "Let's open this baby up and see what she can do!" We have a feeling you'll find plenty of time for that later.
Treat your watercraft like you would treat yourself. Keep it clean and protected! A cover from your local BRP dealer is a wise investment. Rinse, wash and wipe down your watercraft after use. This is essential if you are operating in salt water. Keep metal parts, engine components and pump properly lubricated. See your authorized BRP dealer for the proper cleaning supplies.
If you're operating in salt water you'll need to execute the very simple flush procedure, which is explained in your owner's manual. You did read your owner's manual right? If not, you will want to find it, and turn to the "Post-Operation Care" section. Stop here and go get it. Flushing the exhaust system, and other components with fresh water is essential to neutralize the corroding effects of salt or other chemical products present in water. Flushing will also help to remove sand, salt, shells and other particles present in hoses and water jackets that could lead to overheating of the exhaust system.